Sufya/Safa/Sufia/Sophia
Nursufya Yacob can't wait to go back home to Malaysia. Mainly because it is hot and sunny there. Also becuase she can't wait to marry her fiance soon.<3
She believes life is too short to fool around with. Therefore every second is worth spending towards a more meaningful and satisfactory life.
D.O.B: 8/8/87
Lives in P.J near KDU & One Utama.
Attended SRK (II)Damansara Jaya (1994-1999), SMK Damansara Jaya (2000-2004), Sunway College MUFY (2005), Victoria University of Wellington (2006-present).
9 Dec 2008 is her graduation day. Hopefully she will graduate with BCA in Accounting and Commercial Law & Graduate Diploma in Professional Accounting. Then maybe Petronas will offer her a job in KLCC.
Her interests are in environment, public policy and religious issues. She likes listening to mozart..especially when she's stuck in her assignments.
She dreams for a simple white wedding, along with a reunion party for her friends from all path of her life. Please make her dream come true by attending her wedding on the 24th January 2009 :D
Back to her blog.
Visit Sufya's friends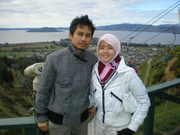 Twitter Update: